Dive into the real experience of Minoan Lines' new campaign for the day after the COVID-19 outbreak. The campaign was designed and launched as part of our award-winning strategic partnership with Minoan Lines.

An Award-winning Strategic Partnership
Minoan Lines is a leading company in the shipping industry that has been offering unique travel experiences of high quality services since 1972. It is one of the biggest shipping companies in Europe, with a successful course in the tourism industry.
Wedia has been Minoan Lines strategic digital partner for more than 7 years, designing and implementing a complete online journey that highlights brand values and multiplies revenues through interlinked digital assets that guide users through each step of travel decision making. Read our extensive Minoan Lines Case Study here.
Recently, Minoan Lines received a Gold Tourism Award (2020) in the category "Online Strategy", resulting in yet another award for our strategic partnership.
A New Campaign to Inspire Travelling The Day After
The outbreak of the global pandemic created a new normality. Every industry was affected, especially tourism. Thus, it was paramount to prepare Minoan Lines actions for the day after, based on new travelling needs and on the fact that people wanted to return to normal and resume their lives, just in time for summer.
Having that in mind, we proposed a new digital campaign, that would allow Minoan Lines, when the time was right, to communicate to their audiences that travelling is now allowed, while, at the same time, promoting the company's preparedness in terms of public health security on board and ashore.

With the tagline Go offline and dive into the real experience! (Bγες offline και ζήστο πραγματικά!), Minoan Lines is addressing all audiences who traveled virtually during quarantine, to unplug from social media, go offline, and dive into the real experience by travelling to one of the company's destinations (Cretan Lines).
To convey the message effectively, we designed and developed a video that showcases the transition from being online (inactive) to getting offline and actually living the experience. We used footage that shows action and familiar images from the Greek summer to create the desired feeling.
Finally, apart from the video, the campaign consists of assets in various formats (landing page, banners, Instagram posts, Facebook posts) in both Greek and English languages, that also promote the new measures taken by the company for public health security, the new travelling experience as well as useful instructions and guidelines regarding travelling.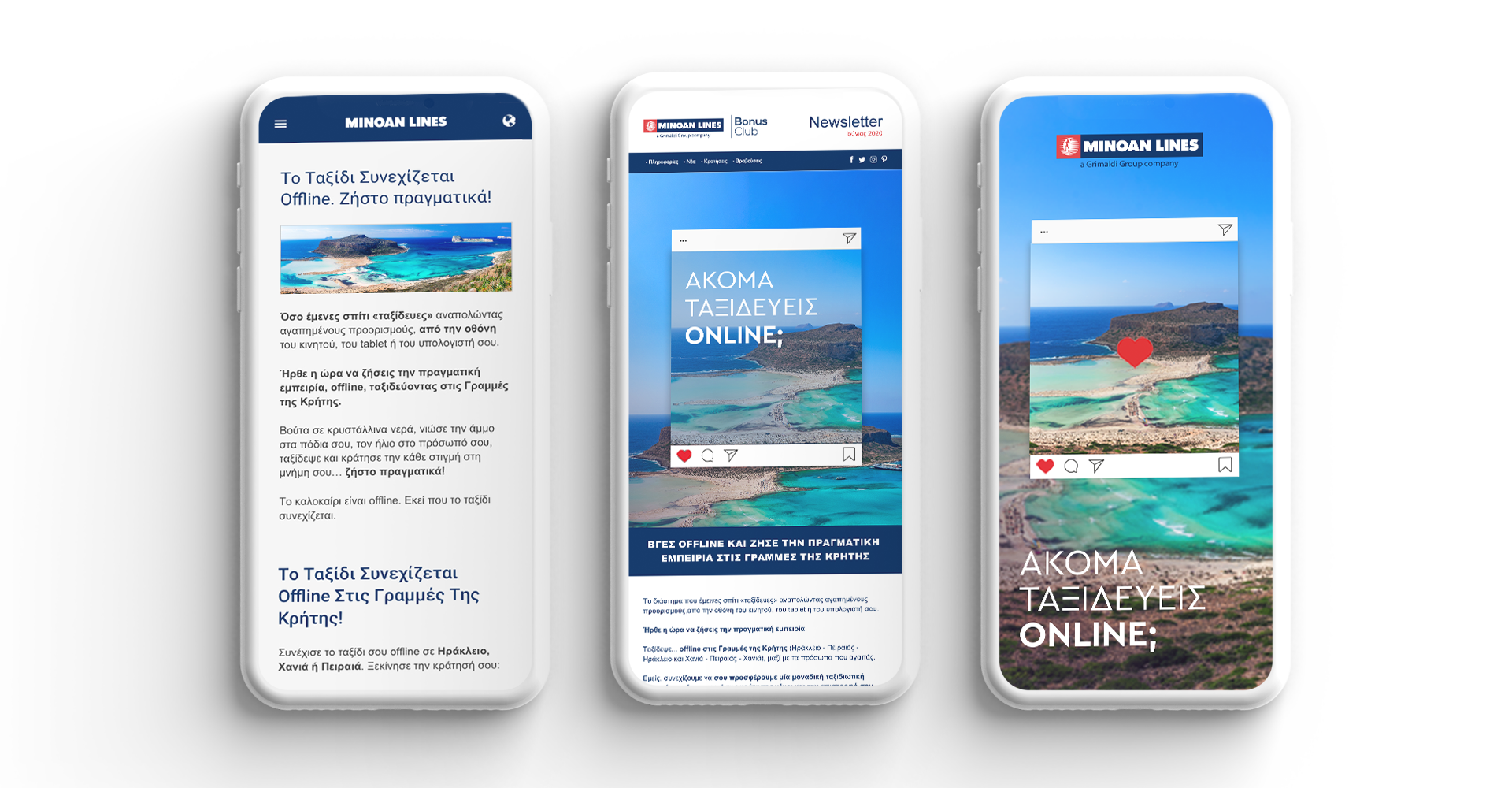 Wedia (Hubspot Gold Partner, Sitecore Partner) supports dynamic organizations in implementing digital transformation strategies, offering a variety of services such as User Experience and User Interface Design, Application Development, Digital Marketing, CRM and Marketing Automation.