The leading Business Intelligence platform in Greece and Balkans powered by ICAP DATABANK, was redesigned and replatformed by Wedia.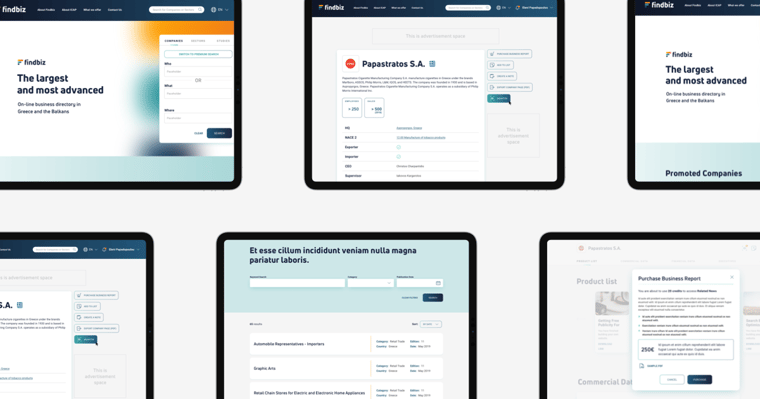 ICAP is one the largest Business Information and Consulting Services Groups in Southeastern Europe, with more than 1.000 employees and strong presence in 5 countries in the region. ICAP supplies integrated and updated commercial and financial data for companies in that meets the businesses' ever-growing need to know in depth their clients' and other interest groups' behavior.
The data supplied is based on the ICAP DATABANK, one of the largest business databases in Southeastern Europe, which includes 8.7 million companies in 5 countries. Furthermore, through its exclusive partnership with the worldwide business information leader Dun & Bradstreet, ICAP provides data for 300 million companies from more than 190 countries.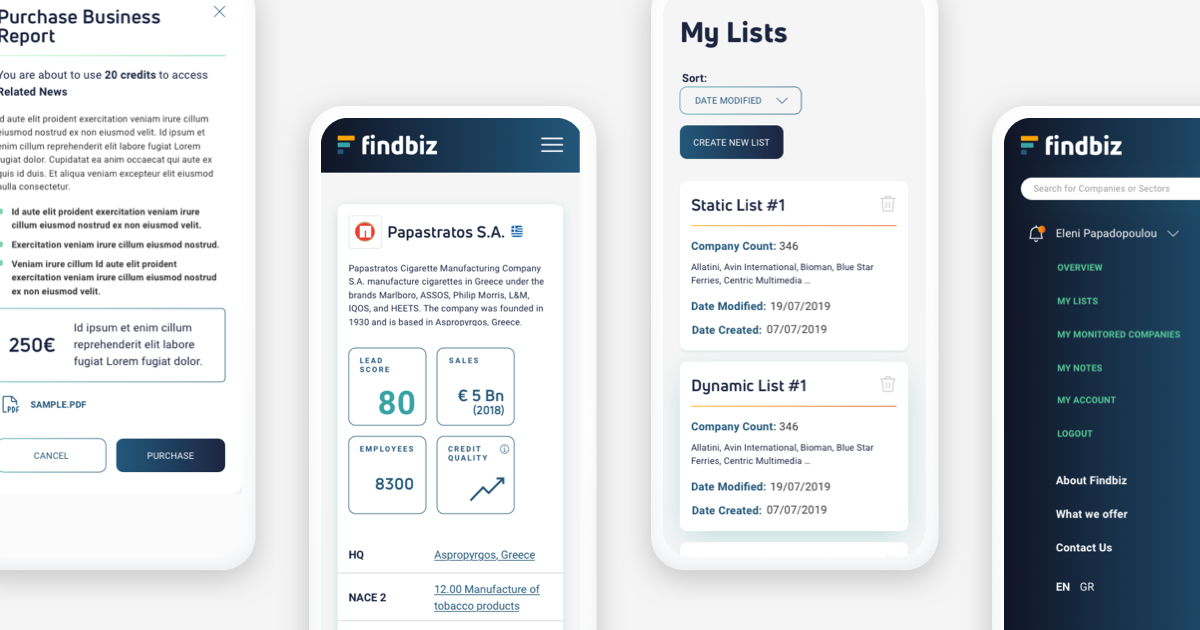 Findbiz.gr is the leading online business intelligence platform provided by ICAP, that helps business development and growth by driving Sales and Marketing efficiencies and improving sales effectiveness.
Whether a company is prospecting, managing accounts or researching companies, the new Findbiz.gr provides a greater understanding of its target accounts and the sectors in which they operate. Powerful search capabilities leverage business intelligence and innovative analytical features to help identify leads that represent real selling opportunities.
Project redesign was aimed in enhancing User Experience and Application Functionalities, providing company and sector specific financial information and market research to Marketing and Sales Departments seeking business decisioning data and analytical insights. Some of its most powerful features are:
Broadest company coverage in Greece and the Balkans with more than 1 million company records
Financial information with 3-year history
Industry insight based on NACE 2 classification
Focus efforts on accounts that match your segmentation and targeting criteria
Smart Lists dynamically update you on top potential opportunities
Deep business intelligence and analytics promote intelligent targeting

Rich dashboards provide immediate insight into key sales targets

Mobile ready for sales on-the-go

Higher productivity – spend more time selling than searching

Tighter focus on the accounts that matter most – with the highest propensity to buy

Improved segmentation and targeting delivering higher ROI of marketing programs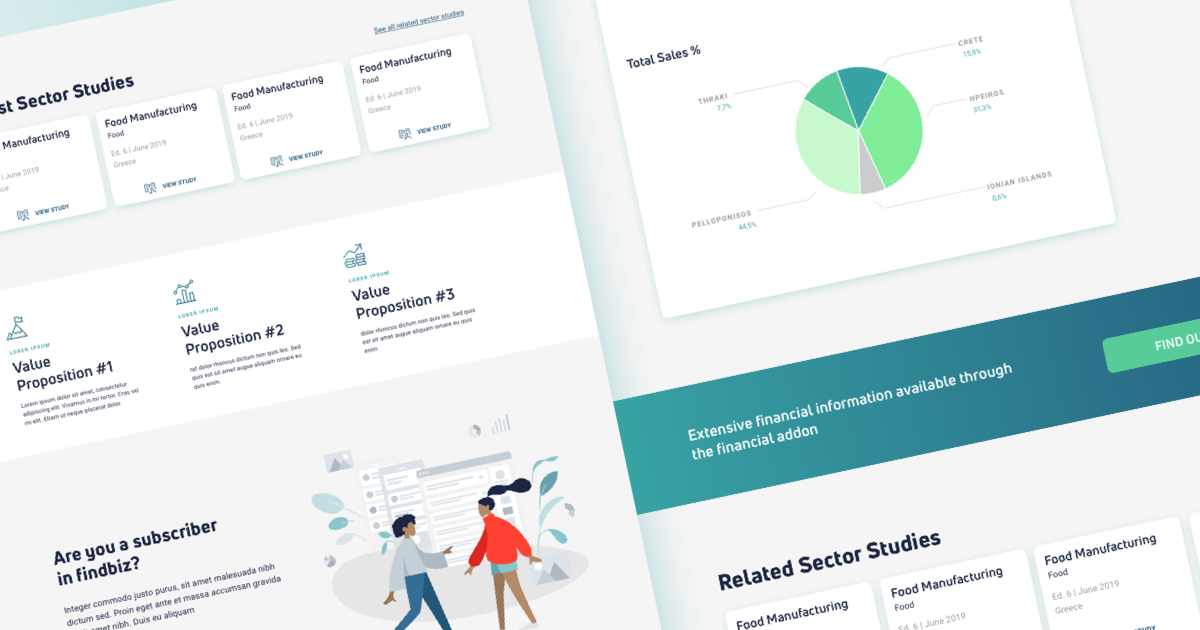 Registered users can search for a company through a number of criteria and view an extended set of information regarding their financial data for a series of years. Company data can be compared with similar companies or aggregated information for the sector/industry they belong. All data are retrieved from back offices systems with powerful databases and historical data through an extended API of Web Services. Front End applications have been built in Vue.JS framework allowing great flexibility and rich interactivity.
Users can create static lists of companies so they can follow up with additional inquiries while the application provides a dynamic interface to define your own important factors that allow dynamic, real-time lead scoring based on pre-defined criteria such as number of employees, revenue or location.
The application provides a number of dashboards that allow easy but powerful reporting, filtering and exporting of data to various formats, so marketing and sales teams can run additional queries, create specific segmentations and feed their CRM systems for next steps.
New Findbiz.gr offers additionally rich datasets for the major Sectors aggregating information and providing valuable insights that can drive marketing and sales decisions. Among other things registered users can purchase online detailed Reports and Studies with detailed market research data using a flexible points system.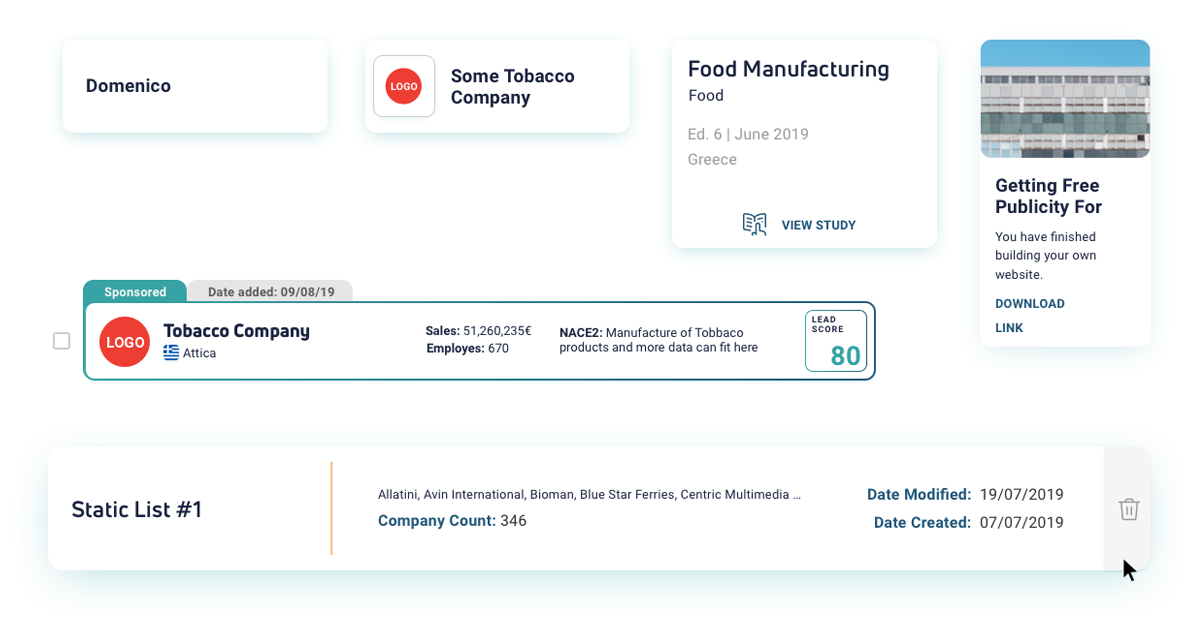 The application was built on Umbraco CMS platform supporting all content specific requirements, while a number of custom applications have been implemented in Microsoft .NET technologies, Vue.JS front end framework and MVC framework in order to exchange data with back end systems and databases through an extended Web Services API.
Wedia has designed a complete and expandable Design System for Findbiz.gr, with all required atomic or compound user interface controls and components, has defined typography hierarchy and colors, call to action buttons, information tables, criteria and filters and many more.
Check out a full design presentation, additional layouts and mood boards at Wedia page in Behance and follow us, to get notified where new case studies are published.